in this post, i have tested 2 ema crossover 9 and 20 and it is based on algo buy sell afl you can automate this strategy also with this afl .
you can modify ema crossover and check-in live.
i have taken short period ema is 9 and long period ema that is 20 for testing purpose.
in the below image you can see there are 2 setting that is showing
short term moving avearge period-9
long term moving average period -20
so you just need to change these two setting for filter signals for intraday as well as positional .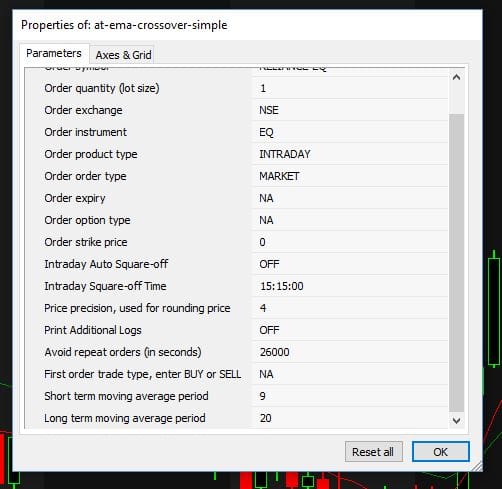 many retail traders use this crossover in intraday but you can attach this strategy with pivot point AFL or CPR indicator also for better results. i have uploaded many code for amibroker on my website you can check it here .
if you are a positional trader you can use ema crossover of 50 and 200 it gives you good results for positional trading basis.
in this afl you got.
Algo code
Buy-sell signal code
download

after 20 seconds of timer

just change the extension from .txt to .afl it will change the file to amobroker readable file now simply copy file anf paste in c drive in amibroker custom formulas folder
C:\Program Files\AmiBroker\Formulas\Custom
how to apply this code for amibroker on charts .simply open this link for installation process .
Wait 20 second for downlaod link and scroll below and click on download file to download
Must read :

Crudeoil mcx live charts with buy sell signals