⚡

4 Top stocks to buy in jan 2021
---
➽In this post we will discuss about 4 top stocks to buy in  jan 2021
Stock:

Newland Lab

Time Frame:

Daily

Description: The security has provided nearly 7000% return in a span of 17 years and has peaked out in April'2017.

Additionally, Covid has provided its bit as well.

Currently, with the All-Time High volumes of more than 25 Million cumulative shares being traded since June'2020.

The price is consolidating for two months.

The plan of action right now can be, letting the price to have structure from consolidation to a downtrend in order to make a Flag & Pole Pattern.

One can ponder on having investment in the stock above the recent high of

1330

And a target of 1500 and having a stop loss to crucial Moving Average or whatever suits your Risk: Reward status.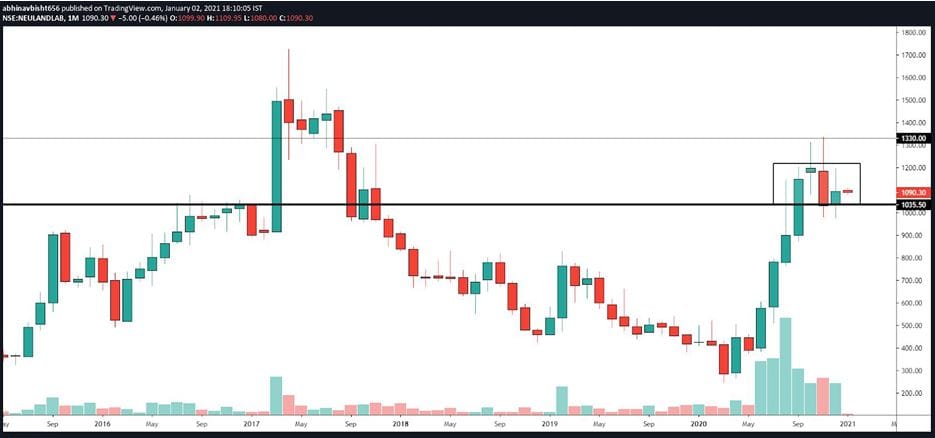 ---
Stock:

Cheviot Company Ltd.

(stocks to buy in jan 2021)

Time Frame:

Daily

Description: The security has been squeezing after hefty selling in March.

Currently, it's on the verge of breaking either side (Having a good probability of upside) whilst having reasonable support of 100 Day Simple Moving Average.

A breakout above the structure with good volumes perhaps would provide a buying opportunity with followed by the good money management system.

Risk averse can wait for the break of 725 levels and price acceptance in a new area for the company.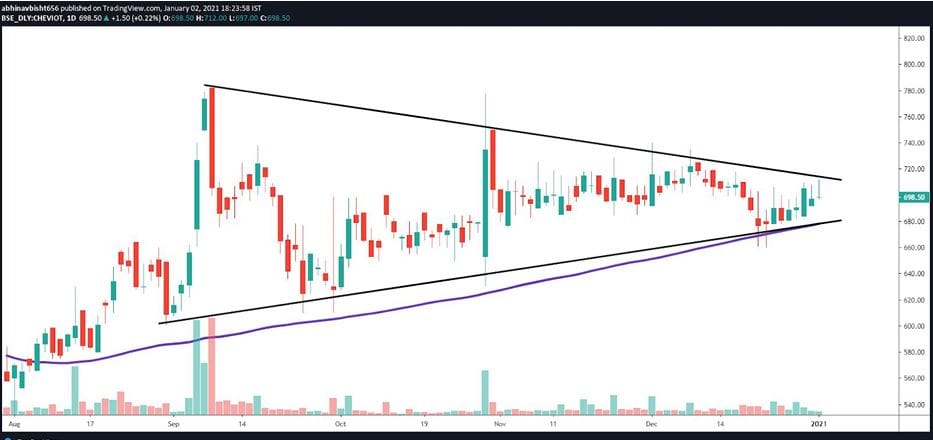 ---
Stock: Sudarshan Chemical


Time Frame:

Daily

Description: The security with 31250% return from All Time Low till All-Time High has come given a good opportunity.

 For trend trading investors to have the stock in their portfolio.

Currently, the stock has been forming Ascending Pattern for 8 months and is quite near to its breakout after getting squeezed to its edge.

The stock has indeed given fake breakouts a couple of times with indeed blasting volumes.

A prudent player can wait for a Monthly closing candle to averse from any type of risk.

The stock is falling near 100 Day Moving Average, which makes it a better candidate in terms of Risk- Reward structure for swing/long term players.

The stock can be though of buying with a target of 600 and stop-loss at below the structure in order to be safe from any outbreak in the market environment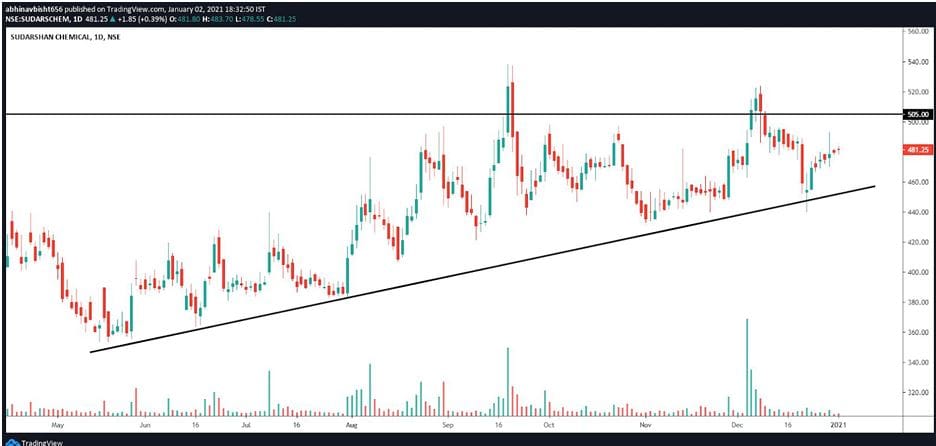 ---
Stock:

Avanti Feeds

Time Frame:

Daily

Description:Description: The security price structure has made an Ascending Channel Pattern 

The price has been squeezing since the month of July 2020 and has reached the verge of a breakout, preferable upside, resuming the overall trade.

And pushing the stock valuation

higher by bouncing from 61.8% magical Fibonacci level.

A decent breakout from 560 with a daily closing and higher volumes could be a sign of moving to another the pre covid highs of 700+ .

A weekly closing price above

560 would be a fairly decent closing to attract new potential buyers in order to help the stock to rally significantly.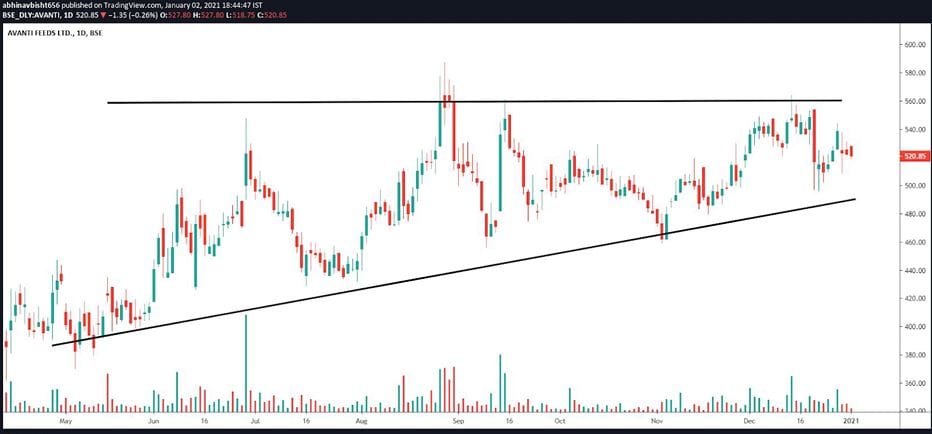 ---
👉contributor and Links:-
👉This analysis is shared by one of our subscriber Named chartomania curator (Abhinav) .. thanks for doing this ..
👉Must read: Intraday strategy
Disclaimer :– I am not a sebi registered advisor .. its for educational purpose please do your analysis .
Before taking any trade .i will not responsible for any losses you did in this market.Click here for disclaimer