Stocks to buy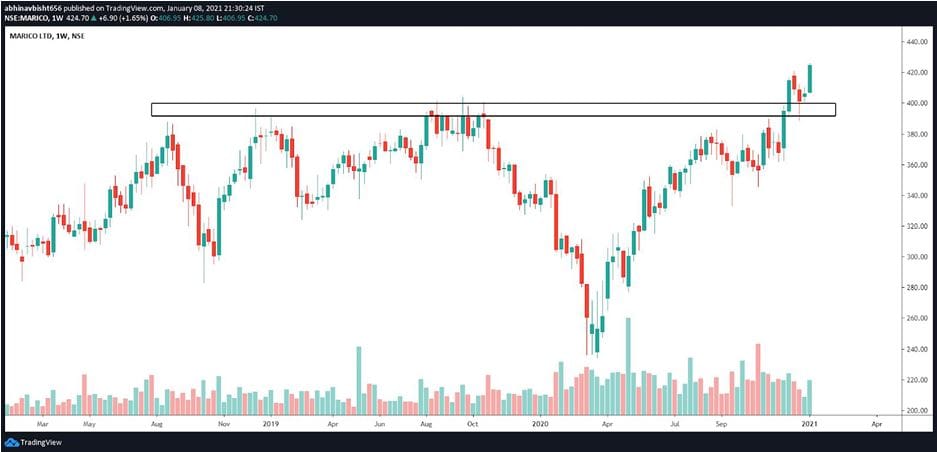 Stock: Marico
Time Frame: Weekly
Description: The security with continuous uptrend since 2005 had to halt its journey in 2019.
However, the action master is back in the ring by breaking all resistances with the highest volumes than ever and surpassing every hurdle on the way with ease.
Watching the shareholdings.
Promoters being nearly

60

% owners of the company with zero shares pledged. FIIs & DIIs have not much change in their positions in the stock in recent quarters.
The revenues of the company have remained stagnant for the past two years. Being a regular Dividend payer, giving a positive outlook to the company hence benefitting the long-term investors as well
Looking at the charts, the share price has broken multi-year resistance and all set to reach new skies. Giving a retracement to the swing highs in the weekly time frame creates a healthy form of the longer uptrend.
Buying at the CMP won't be foolishness whilst placing the stop below 400 according to the appetite. Projecting targets on All-Time High stocks is like shooting arrows in the dark, however, ₹500 level is a decent target for the near future.
Stock: Bharat Rasayan
Time Frame: Weekly
Description: "35000% in 20 Years", isn't that enough to motivate someone to at least look into the company?
Being demanding on the field of Pesticides & Agra Chemicals sector with a staggering rise in the Revenues of the company on annual basis makes it more worthy to look onto.
Talking about Share Holding Pattern, Promoters being 75% owner have no pledging of the share.
The market cap of nearly

4500

cr and highest ROE among its peers, makes it unique.
Looking at the technicals, the recent month volumes have shown significant growth, thus implying the interest of many big players.
The security price has been in a downtrend to sideways from

2018

, but the recent breakout has created interest in many of the investors.
A monthly close above ₹

10500

can be seen as a good opportunity to have this mid-cap company in the portfolio. Stop Loss under the swing low and targets for ₹

12500

+ can be projected.
---
👉contributor and Links:-
👉This analysis is shared by one of our subscriber Named chartomania curator (Abhinav) .. thanks for doing this.
👉Must read: Intraday strategy
Disclaimer:– I am not a sebi registered advisor .. it's for educational purposes please do your analysis.
Before taking any trade . i will not responsible for any losses you did in this market. Click here for disclaimer
"Must read:1. Best intraday strategy"
3.Best Paid Trading view indicator 
4.Free Realtime Buy sell signals