⚡Best stock to buy right now in december 2020
in this ..post we have discussed about 4 stocks .. technical charts with some . explanation  please read full post before you invest anywhere . it may be your good pick this time
1.Stock: Maruti Suzuki Time Frame: Weekly
Description: Not only a sector leader with a phenomenal market holding in the automobile sector but also, one of the favorite listed companies which have given multifold returns in 16+ years.
Topped out in 2018 creating a Double Top, but now it is back to grab those highs again.
Being in a sideways + downward trend for 2 years, the price line has started shifting to the new highs. Currently, a big breakout and retest is quite evident in the charts. 200 Period moving average has been broken as well. Giving a bullish Monthly closing would be a great headstart to the security price to welcome new swings.
One can ponder on putting this stock in the portfolio in the long run once the 8000 price is breached with a weekly closing.
A wide stop loss with a wide target can be kept in this 4 digit stock price.
One shall not risk below 7000 price range and targets could be 9500. It's clearly for a positional point of view.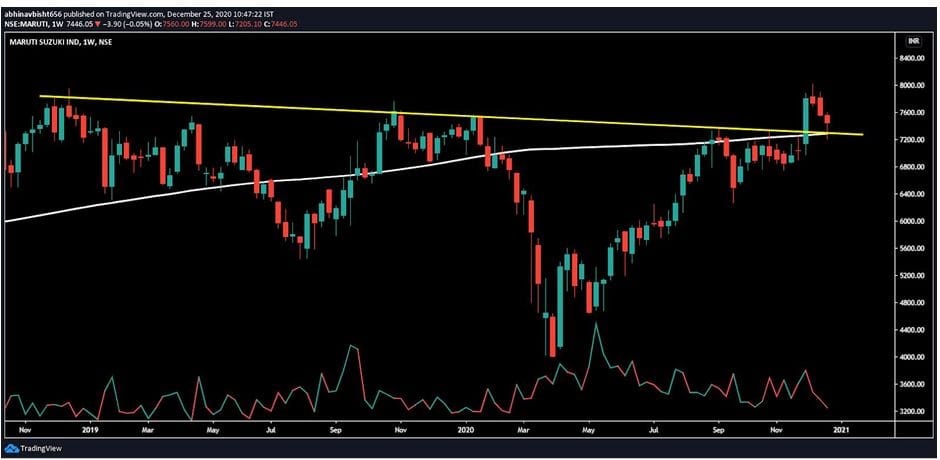 2.Stock: SMS Pharmaceuticals Time Frame: Weekly
Description: Sharp upmove in the stock has been witnessed with Pharma Bull Run. 4 Months of congestion and now, the stock price is all set to pick up momentum and attain new highs.
The stock has broken out and retested in a Daily time frame. A pretty good volume addition implies the investor's interest which is generating in the stock.
Closing at a new swing high can be a signal to get into the stock with a target out of 120 and stop loss of 50 DMA or Rs. 90 price line whichever fits the Risk to Reward ratio.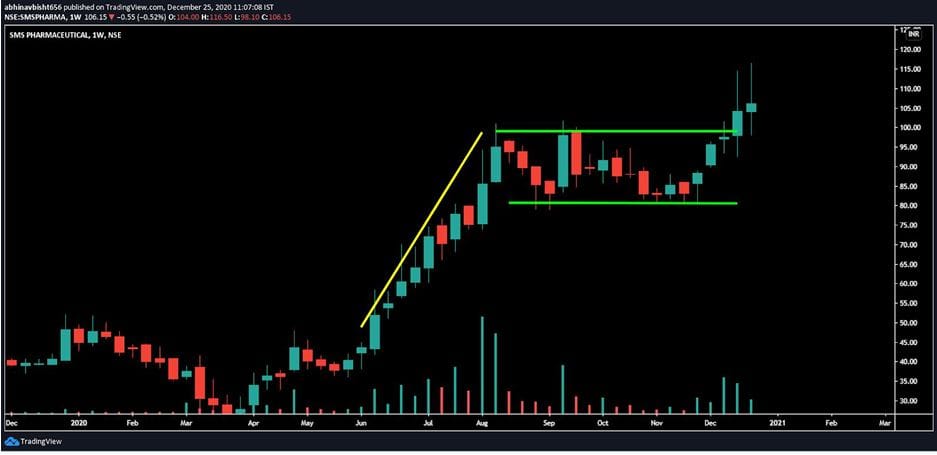 3.Stock: Ratnamani Metals & Tubes Time Frame: Daily
Description: Broken All-Time High at one shot and now trading at the zone for over a month now without giving any retest to the previous swing high.
Currently, the momentum is downward hence creating a Pole and Flag pattern. This can be a risky bet as the stock has already in an All-Time High Zone.
If at all the security starts its journey above 1700 with above average volumes, one can contemplate on playing with the stock with one's wisdom.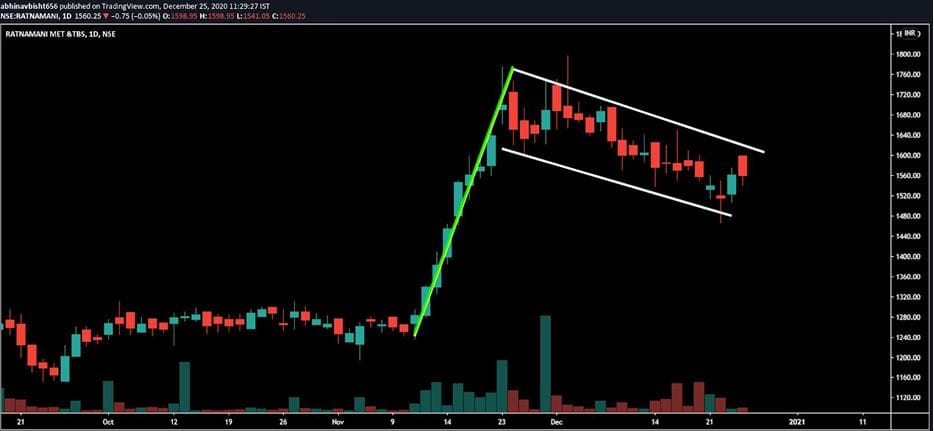 4.Stock: Salasar Techno Eng Time Frame: Daily
Description: Standing at the reversal point, the security price has been pushing to break through the zone of 220-240. After getting doubled from pre covid levels, the security has found some resistance to take rest. However, volume inclination implies the stock would reach another swing highs.
A daily closing above 235 can be a signal to put the stock as a Swing Buy with a Stop Loss of 215 and Target of 255.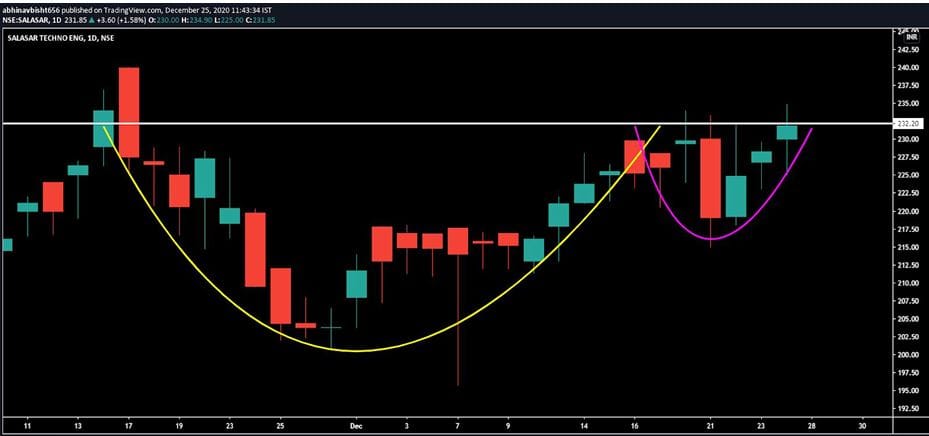 👉This analysis is shared by one of our subscriber Named chartomania curator (Abhinav) .. thanks for doing this ..
👉search channel on telegram –crudeoilsurecalls ………………………………………………………. LINK- https://t.me/crudeoilsurecalls ✺✺✺✺✺✺✺✺✺✺✺✺✺✺✺✺✺✺✺
👉For daily free crude oil ,Nifty,Banknifty,Stocks,Stock fut calls free .. join
⇱ CLICK HERE TO JOIN TELEGRAM ____
https://t.me/crudeoilsurecalls
 search channel on telegram –First Learn then Earn
👉 JOIN DISCUSSION GROUP —https://t.me/joinchat/AAAAAFEg1DzO-taZDtvSoQ
For Free__Live discussion in live ___
join our social media accounts… Twitter-https://twitter.com/autobuysellsign
Facebook-https://www.facebook.com/autobuysellsignal.in
linkedin-https://www.linkedin.com/in/autobuysellsignal/
Instagram-https://www.instagram.com/autobuysellsignal/
Pinterest-https://in.pinterest.com/autobuysellsignal/
Disclaimer :– I am not a sebi registered advisor .. its for educational purpose please do your analysis .. before taking any trade ..i will not responsible for any losses you did in this market …..https://autobuysellsignal.in/p/disclaimer.html