✍Stock Analysis for short term Nov 2020 
in this ..post we have discussed about 3 stocks .. technical charts with some . explanation  please read full post before you invest anywhere . it may be your good pick this time .
✍Stock name: Federal Bank Time Frame: Daily
Description: The stock has broken out from the 9 months long consolidation period and is sustaining at the verge of the rectangular zone. Along with this the security has broken and retested its 200 Day Moving Average as well 200 Day Exponential Moving average with volume outburst.
The foremost target could be around 80 thereabouts and the stock can be bought on dip above 200 DMA only.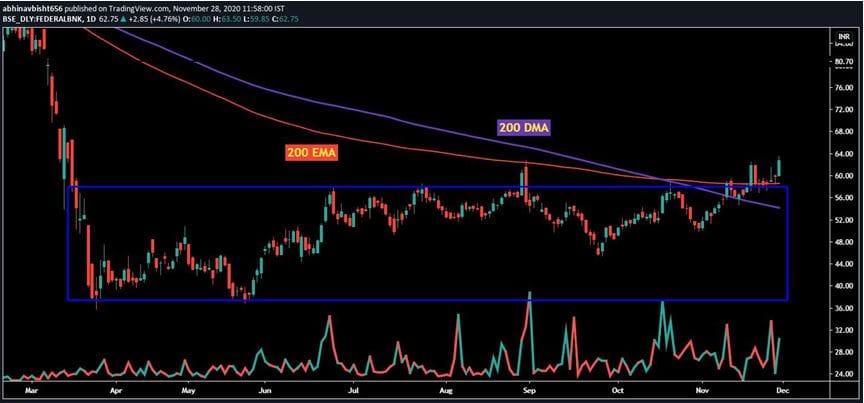 ✍Stock name: Madras Rubber Factory, MRF Time Frame: Weekly
Description: The security has paved its way till 2 years high and sustaining above that. The marked yellow lines work well in terms of supporting and resisting the price level of security.
It holds high potential after the all-time high would be taken out as it would mark a breakout of 3 years of consolidation in a rectangle pattern forming in a month time frame.
The next hurdle for the stock would be 80,000 from where the stock price topped out and reversed drastically forming a double top.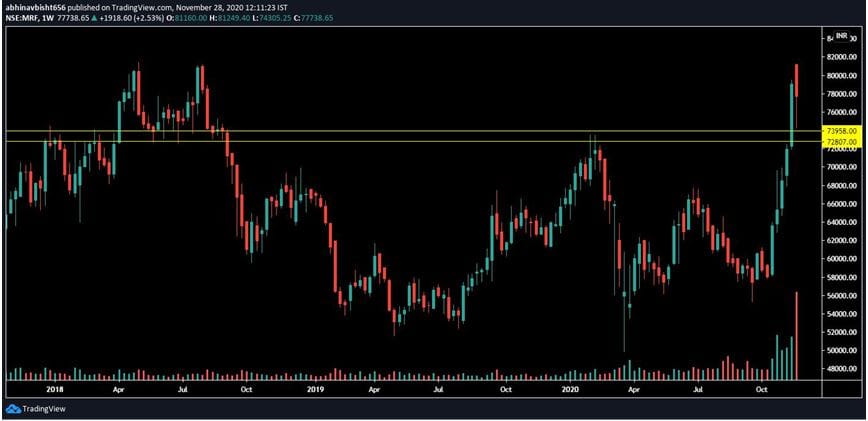 ✍Stock name: Reliance Industries Limited Time Frame: Daily
Description: The security is forming some weird kinda Double Bottom pattern. After a sharp decline from the All-Time High of 2370, the stock has been resting to regain its momentum on either side.
The marked blue line at 2088 thereabouts is a pretty decent resisting zone as one can see the huge red bars crashing the price severely.
A big bull green market with volume outburst (a shaven head would be appreciated) can be seen as an indication to buy with the target of 2300 with few months.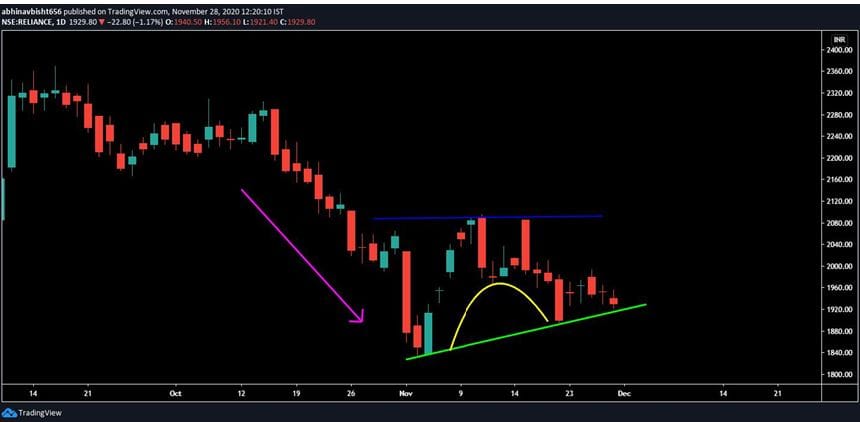 👉This analysis is shared by one of our subscriber Named chartomania curator (Abhinav) .. thanks for doing this ..
👉search channel on telegram –crudeoilsurecalls ………………………………………………………. LINK- https://t.me/crudeoilsurecalls ✺✺✺✺✺✺✺✺✺✺✺✺✺✺✺✺✺✺✺
👉For daily free crude oil ,Nifty,Banknifty,Stocks,Stock fut calls free .. join
⇱ CLICK HERE TO JOIN TELEGRAM ____
https://t.me/crudeoilsurecalls
 search channel on telegram –First Learn then Earn
👉 JOIN DISCUSSION GROUP —https://t.me/joinchat/AAAAAFEg1DzO-taZDtvSoQ
For Free__Live discussion in live ___
join our social media accounts… Twitter-https://twitter.com/autobuysellsign
Facebook-https://www.facebook.com/autobuysellsignal.in
linkedin-https://www.linkedin.com/in/autobuysellsignal/
Instagram-https://www.instagram.com/autobuysellsignal/
Pinterest-https://in.pinterest.com/autobuysellsignal/
Disclaimer :– I am not a sebi registered advisor .. its for educational purpose please do your analysis .. before taking any trade ..i will not responsible for any losses you did in this market …..https://autobuysellsignal.in/p/disclaimer.html