The magic indicator is for the MT4 trading platform and in this new version you will get a combination of three indicators and this is useful for intraday trading as well as for positional trading .
So you can use it in any timeframe for a better entry point or exit point you should use multi-timeframe analysis.
If we talk about in which market this indicator will work so you can use in all market like Indian market, London market and New York market and overall we can say you can use in most of the volatile market .
⇒How to Add Magic indicator  in the Mt4 platform?
Follow some steps and you are good to go how you can use it in a very simple way. Follow the steps that I will tell you.
Download Buy Sell Magic Mt4 indicator 2021 version from the below link
Open your Mt4 Platform
Click file →Open →data folder→MQL4 / indicator.
Now we need to Copy the magic indicator ex.4 file and paste it in the indicator section under MQL4.
Now the final step is you need to close the mt4 platform and reopen it otherwise there is an option also that click on navigator that shows on top of mt4 platform and there will be an indicator section shown now .simply right-click in that window and refresh it will refresh the whole indicator section and update with the new list with Xmaster indicator.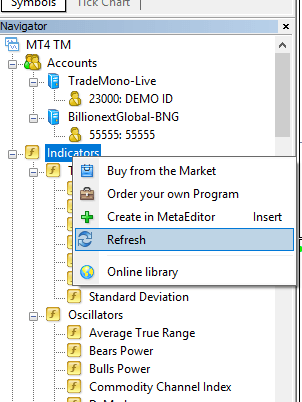 when you add a new indicator to the mt4 platform this window can help you to refresh the indicator list
Specfications of Magic Buy Sell indicator :-
Buy Sell Signal
Stop Loss Line Included / ATR INDICATOR INCLUDED
Zig Zag indicator included
Green and Red signals on the chart