XMaster formula is designed to use in high volatility markets, like forex market, commodity market even you can use it in the Indian market also in Banknifty because bank nifty is too volatile to trade so you need to check once this indicator is in your Mt4 platform. Many traders that belong to the London market and New York market use allot for checking market volatility and use this indicator for buy zones and sell zones where they can take an entry.
⇒How to ADD Xmaster Formula in the Mt4 platform?
Follow some steps and you are good to go how you can use it in a very simple way . Follow the steps that i will tell you .
Download Xmaster Mt4 indicator 2021 version from the below link
Open your Mt4 Platform
Click file →Open →data folder→MQL4 / indicator.
Now we need to Copy the Xmaster ex.4 file and paste it in the indicator section under MQL4.
Now the final step is you need to close the mt4 platform and reopen it otherwise there is an option also that click on navigator that shows on top of mt4 platform and there will be an indicator section shown now .simply right-click in that window and refresh it will refresh the whole indicator section and update with the new list with Xmaster indicator.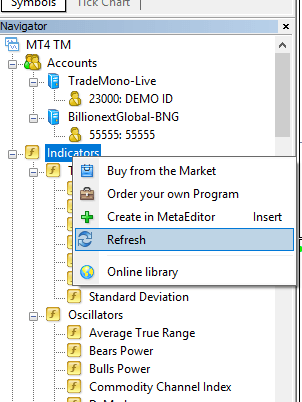 Read Here:-
Best moving average setting for intraday
⇒How to apply Xmaster Formula on the chart in the Mt4 platform?
for applying any indicator in mt4 there are a few options or steps available follow the steps.
when you right-click on any indicator few options that will show you like attach to chart click on it and it will apply to the chart.
Now, 2nd step is simply to drag and drop that indicator on any opened chart and it will apply very fast.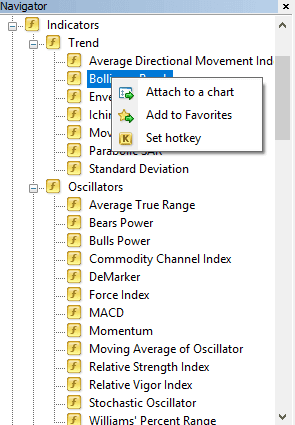 →Some Advantages of XMaster Formula?
It's a very light file with some kb and its easy an to understand indicator.
you can use it in all financial markets that is tradable.
it may give you accuracy around 70-75 percent.
change timeframes and you can use it for intraday and swing trading as well.
→Some Disadvantages of XMaster Formula?
The signal appears very rarely.
you need to wait with patience means you need high patience.
sometimes it may give you fake signals also so you need to find out with some technique I will tell you with some charts.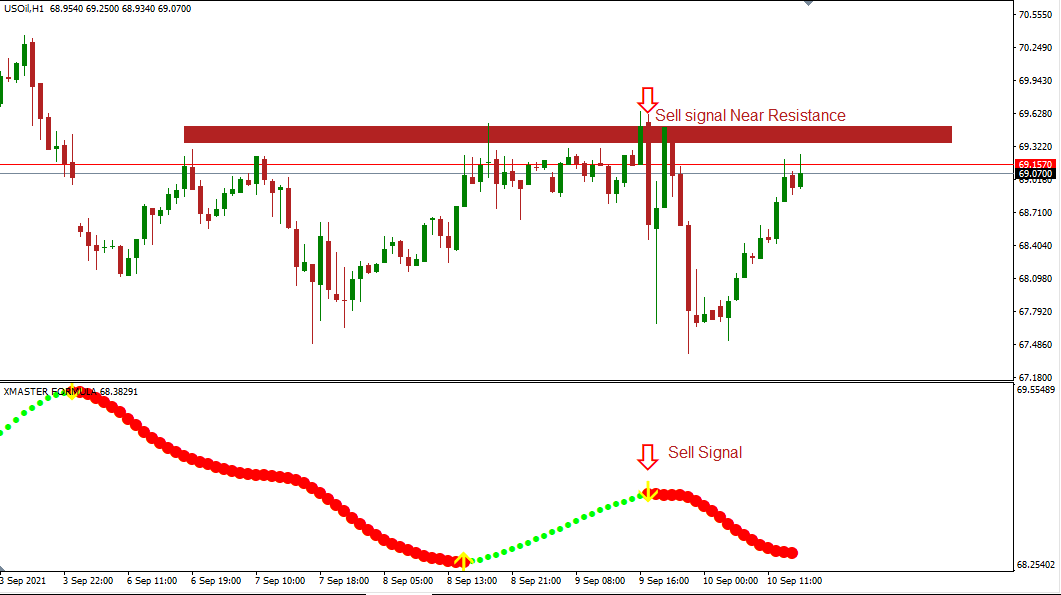 How to SELL with the help of Xmaster formula ?
in the above image, you can clearly check we have marked some resistance in the USOIL chart
you need to find some zones like resistance or support in this case we got a selling zone
And at the same time indicator also has given a sell signal with a 

yellow arrow

on down side this way you need to work with these levels.
A red candle forms near resistance so it's a confirmation for selling.
Place a stop loss above the resistance are or near swing high and you can take a trade on the selling side.
How to BUY with the help of Xmaster formula ?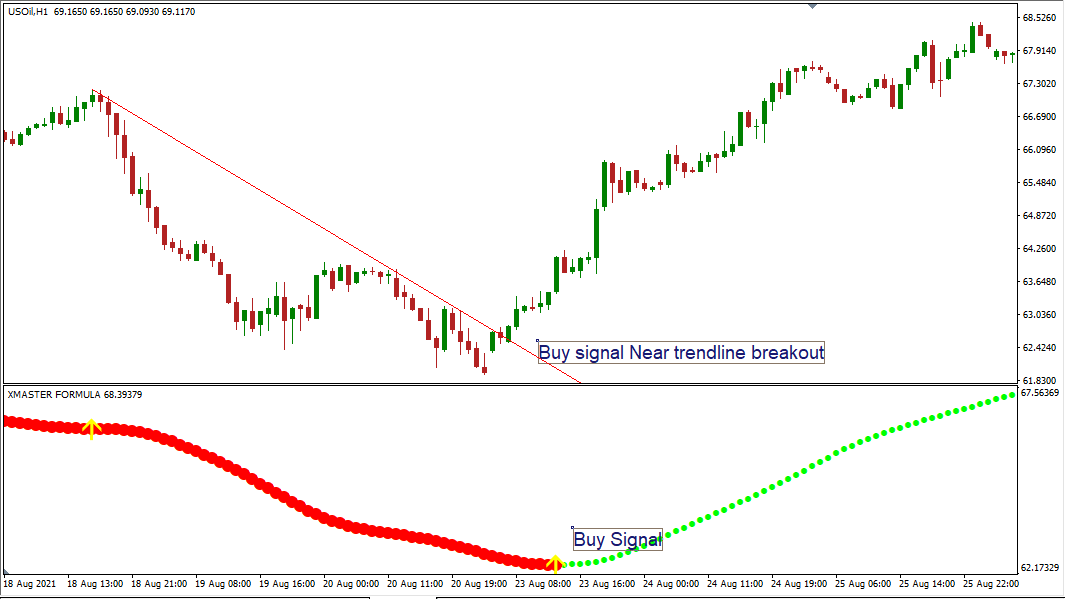 in the above image, you can clearly check we have marked drawn trendline in the USOIL chart.
we have taken a 1-hour timeframe chart there we have drawn a trendline and a green candle is a breakout above this trendline.
Near the trendline breakout, this XMaster indicator has given you a buy signal with a

yellow arrow

again .
A green candle has crossed above the trendline and it is showing you market strength and also show you some confirmation for taking trade-in buy-side.
Place the Stop loss below the swing low and you can go for entry.
Note About Xmaster indicator:-
Don't depend fully on it please find some patterns like support resistance or trendline then follow its signal.
Follow some days without taking trade-in live sessions with real money.
Please find its limitations and fake signals at which place it is giving you fake signals.
Please add some indicators also for confirmation.
if you are searching for no repaint indicator then you will have to apply it on chart and check by own .
it was the most favorite mt4 indicator in 2020.
it only works in mt4 so you cant use it in mt5.