Hello friends and Traders in this post we will discuss about NIfty and bank nifty levels for tomorrow with Technical analysis and that is  Based on Purely price action .
#Nifty has strong resistance near around 16700-16720 this 20 points zone will act as a strong resistance for tomorrow session or this level may be turn support as well for upcoming days and market can go up so which levels we need to follow just follow the price action technique and chart which i have posted below .So mark that levels for tomorrow's session it will help you in making trading decisions.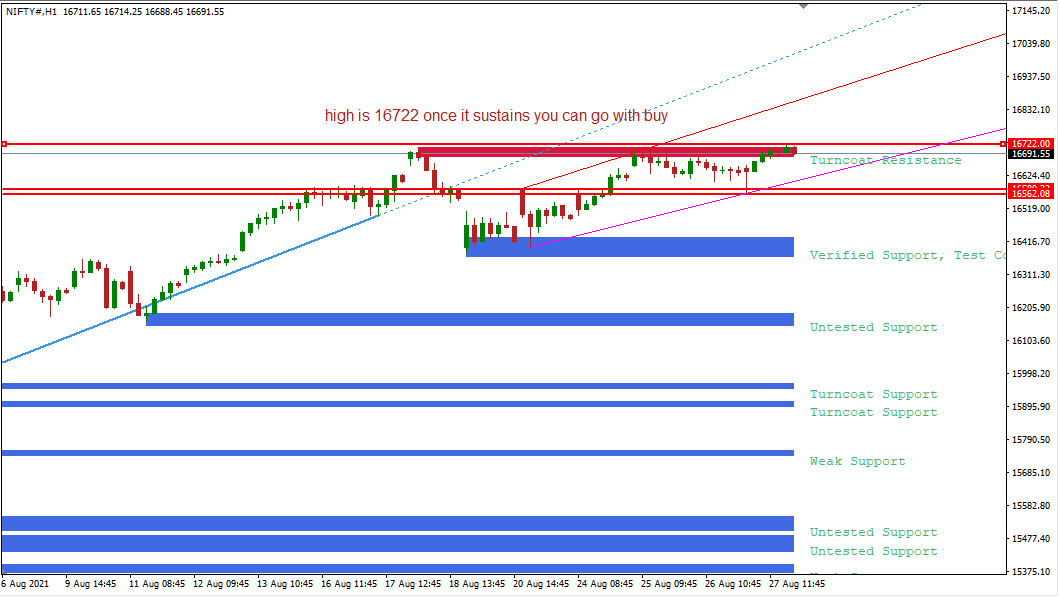 Its 1-hour timeframe chart in which you can easily check the resistance area with red color and support is marked with blue color it plots automatically .so the market has tested this 16700-16720 zones so many times so it may be break tomorrow be cautious with these levels. we will talk about some scenarios that the market can make tomorrow and in upcoming days also.
Scenario -1: If Nifty opens near and trading near 16700-16722 for some time and holds this level it may work as a support and it may give you a good bounce at the upper side so You can take a small SL and you can buy above 16722 .
Buy above 16722 targets open because at upper side no resistance
Scenario -2: If Nifty open gapped up so wait don't go with any position so wait for a good point for entry it will again come near 16690-16720 for taking support for healthy trend and going upside so wait to come near till 16690-16720.
Buy near 16690-16720 after taking resitance from uper side you can buy here for some pullback .
Scenario -3:  If Nifty not holds 16690-16720. for some time it will act as a resistance you can take a small sl and you can take entry in short side also you can buy a put.
Short below 16680 target near 16630 -16600 below 16600 it may be slip till 16550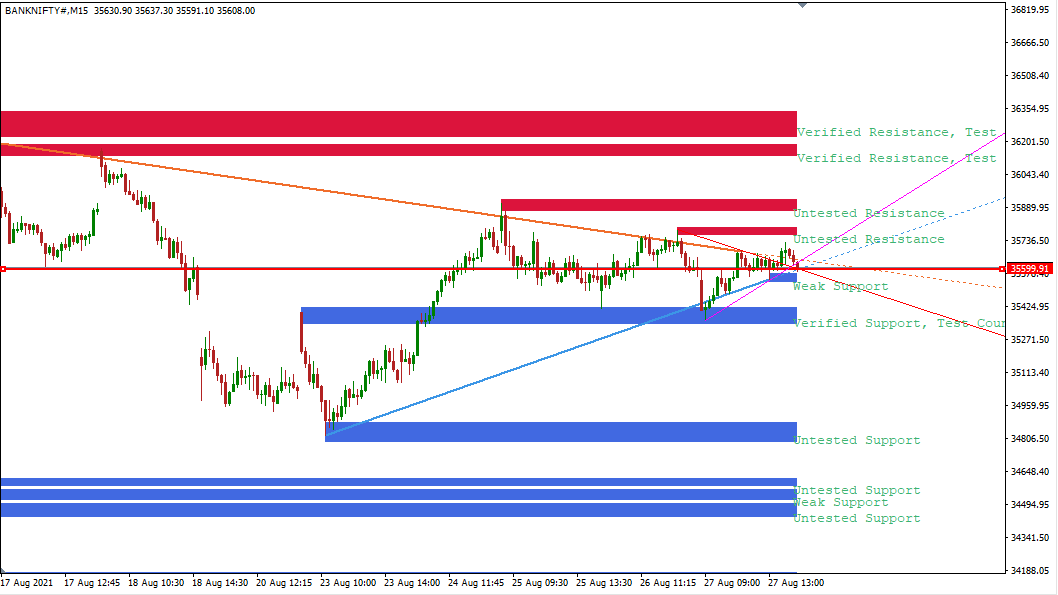 As you can clearly see the above image of bank nifty that is showing it is trading near the support area that lies at 35600 so which levels we need to follow for tomorrow's session.
Scenario -1: If BankNifty opens near and trading near 35600 for some time and sustain this level it may go up to 35800.
Buy near 35600 if it holds some time here .. target 35800
Scenario -2: If BankNifty opens near 35600 and it breaks 35600 so you can short banknifty and it may slip till first support that is marked with blue color.
Short Below or near 35600 target 35550-35400
Scenario -3: If BankNifty gapped up and trade near 35700-35800 and if it doesnt hold this level you can short banknfity in between 35700-35800.
Short banknifty in b/w 35800-35700 level for target .. 100 points near 35600 and if it doesnt sustain 35600 then good fall till 3550-35400
This whole Anlaysis is based on Price action and MT4 software one click analyis in any stock .. works in all segment .
This Whole Analysis Based on Mt4 Ai based software You can Read more below about this .
Disclaimer : This analysis is totally based on my knowledge and my experience it may give you loss or profit so kindly contact your financial advisor before taking any trade . if you will losse i will not responsible for this .
Best price action Software :-
If you are new in trading or you are already a experienced trader so you should Follow price action technique for finding best levels for entry and exit in any segment .
we have launched a system that is truly Based on Price action .You can try once .
1 click analysis of all stocks.
All segments avaliable (Nse cash , MCX, options, futures, Bitcoin ,Currency pairs and indices of international market )
Based on MT4 AI Based software
It gives you intraday levels as well as positional , short term and long term levels also .
One click installation
Very light under 1.5 mb so you can use low end pc also or old pc also .
It takes very less internet connection.
All thing based on a dedicated server
We will provide this installation via Anydesk .
We also provide you a unique id and password for accessing this .
24*7 customer support .

Read more :-
Free Live MCX 24 App Free Download
for more paid indicators click here
best intraday straetgey click here